THE TROUBLE SERIES: FOUR SWEET CONTEMPORARY ROMANCE NOVELS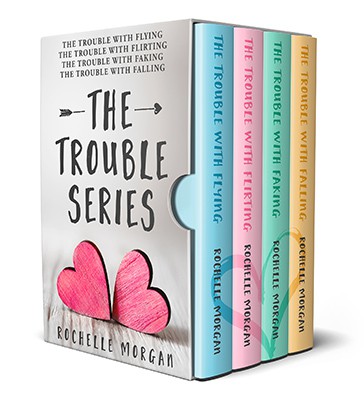 Fall in love with four standalone, coming-of-age, sweet contemporary romance stories! For fans of Stephanie Perkins, Jennifer E. Smith and Cassie Mae.
The Trouble with Flying
Sarah doesn't talk to strangers. Aiden won't shut up. When they find themselves next to each other on a plane, unexpected sparks begin to fly …
The Trouble with Flirting
Livi wants to ditch her nerd status. Adam couldn't care less about being a geek. They've been best friends for years, but will Livi's makeover mission tear them apart, or bring them closer together?
The Trouble with Faking
Faking a relationship is never a good idea, but Andi's convinced it won't be fake for long. Everything will work out perfectly with Damien. Until Noah steps into the picture and confuses everything …
The Trouble with Falling
The girl who's sworn off love finds herself falling for not one, but two guys: her almost-brother-in-law's best man, and the artist she chats to every day online …
______________________________
"… this book burrowed itself into my heart from page one and held on tight." ~ ANA @ THE BOOK HOOKUP on THE TROUBLE WITH FLYING
"The trouble is that it's over already … next please!" ~ STEPHENEE @ NERD GIRL OFFICIAL on THE TROUBLE WITH FLIRTING
"In a market flooded with coming of age romance novels, it's always a delightful surprise when one catches you off guard and blows you away with its awesomeness." ~ JESSICA @ MAINE BOOK MOMMA on THE TROUBLE WITH FAKING
"Sit back, grab a cozy blanket and be prepared to find your new favorite book of the year!!" ~ STEPHENEE @ NERD GIRL OFFICIAL on THE TROUBLE WITH FALLING
– – –
The Trouble series ebooks are now available exclusively through Amazon. If you don't have a Kindle, you can download a Kindle app for almost any device.
[This site uses affiliate links]