CREEPY HOLLOW SERIES: BOOKS ONE TO SIX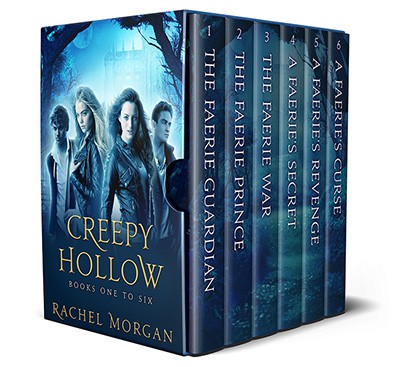 "I immediately reread the series and loved it even more the second time." ~ AMAZON REVIEWER ★★★★★
"… exciting twists and mysterious turns make this a must-read." ~ READERS' FAVORITE ★★★★★
"Enthralling, thrilling and swoonworthy …" ~ REFRACTED LIGHT REVIEWS ★★★★★
Seventeen-year-old Violet Fairdale has one job: protect humans from dangerous fae. It's a job she's good at—until the cute guy whose life she just saved follows her back into the hidden world of magic. Now she's broken Guild law, landing herself in a whole lot of trouble. The last thing she wants to do is spend any more time with the guy who got her into this mess, but the Guild requires that she return Nate to his home and make him forget the magical world he's discovered. Easy, right? Not when you factor in evil faeries, plenty of mystery and intrigue, and inconvenient feelings of the romantic kind. Vi is about to find herself tangled up in a deadly plot that threatens to tear her world apart.
Lose yourself in this bestselling young adult fantasy series filled with magic, intrigue, action and romance!
★★★★★
The 6 books included in this collection have a combined total of over 5500 5-star Goodreads ratings, and an average Amazon rating of 4.7 from over 1800 reviews.
[This site uses affiliate links]