ELEMENTAL HEIR (RIDLEY KAYNE CHRONICLES #3)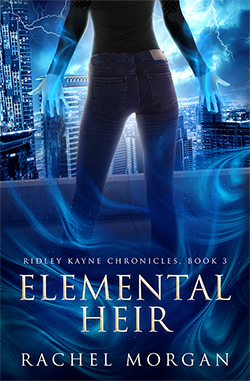 The plan is simple. Executing it will be the real challenge. Can Ridley restore magic to a world that fears it?
Magic, once an integral part of everyday life, is forbidden. Ridley has lived her life in fear, constantly hiding what she truly is.
When the opportunity to change this presents itself, Ridley is fully on board. Restoring magic to society will change the world for everyone just like her.
But when the Shadow Society discovers her safe haven and Archer is taken, Ridley's priorities are split.
She takes off on her own, unearthing life-shattering secrets as she goes and discovering just how much power she truly possesses.
Power that can make a difference. Power that can change the world.
But the Shadow Society is prepared to fight back, and they have power of their own …
– – –
Uncover secrets, betrayal and shocking revelations in this page-turning conclusion to the Ridley Kayne Chronicles!
[This site uses affiliate links]