THE COMPLETE CREEPY HOLLOW SERIES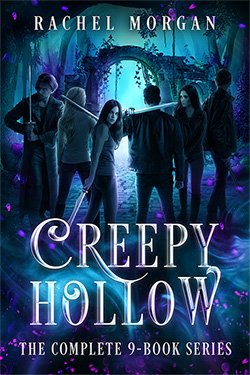 Over 3000 pages of magic, intrigue, action
and
romance, with a collective 8000+ 5-star Goodreads reviews. Binge-read this bestselling YA fantasy series today!
Violet has one job: protect humans from dangerous magical creatures. It's a job she's good at—until the cute human guy whose life she just saved follows her into the fae realm.
Now she's broken faerie law, putting graduation and her future at the Guild of Guardians at risk. She needs to get Nate home and make him forget everything he's discovered—but it won't be as easy as she hopes.
Someone has been waiting for Nate, and now that he's entered the fae realm, a dangerous plot is set in motion. Vi is about to find herself fighting for Nate's life and her own as the two of them are pulled deeper into the darker side of the fae world.
– – –
An epic story of dazzling magic, heart-pounding action, thrilling twists, and swoon-worthy romance. Grab your copy and let yourself be swept away into this enchanting world!
[This site uses affiliate links]