VIOLET'S STORY (CREEPY HOLLOW BOOKS 1, 2 & 3)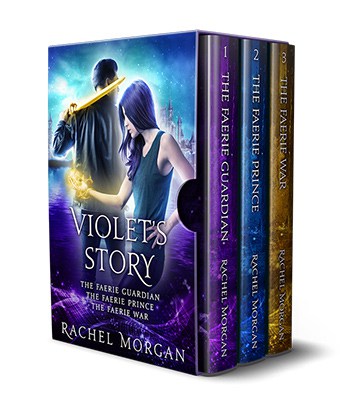 In a world of magic hidden from human sight, guardians train to protect the innocent from dangerous creatures and evil fae.
Seventeen-year-old Violet and her arch-rival Ryn are two of the best—until a single mistake threatens to ruin Vi's chances of getting that top graduating spot.
That mistake is Nate, Vi's latest assignment. The human who should never have followed her back into the fae realm. The one misstep Ryn will rub in Vi's face forever.
But it isn't simply graduation that Vi needs to worry about. Nate's presence in the magical world is the trigger that sets an Unseelie faerie's dangerous plan in motion. Now Vi and Nate must escape a deadly foe, unlock the mysteries of Nate's past, and face their own growing feelings for each other—all while Ryn is determined to see Vi fail.
And that's just the beginning.
Because every step draws them further into a twisted plot more sinister than Vi could ever imagine.
The world is at stake in this bestselling YA fantasy series filled with dazzling magic, page-turning action, family secrets, and romance to swoon for. Grab your copy today!
**Together, these three books have 4900+ 5-star Goodreads ratings!**
Includes the following THREE Creepy Hollow books:
The Faerie Guardian
The Faerie Prince
The Faerie War
[This site uses affiliate links]