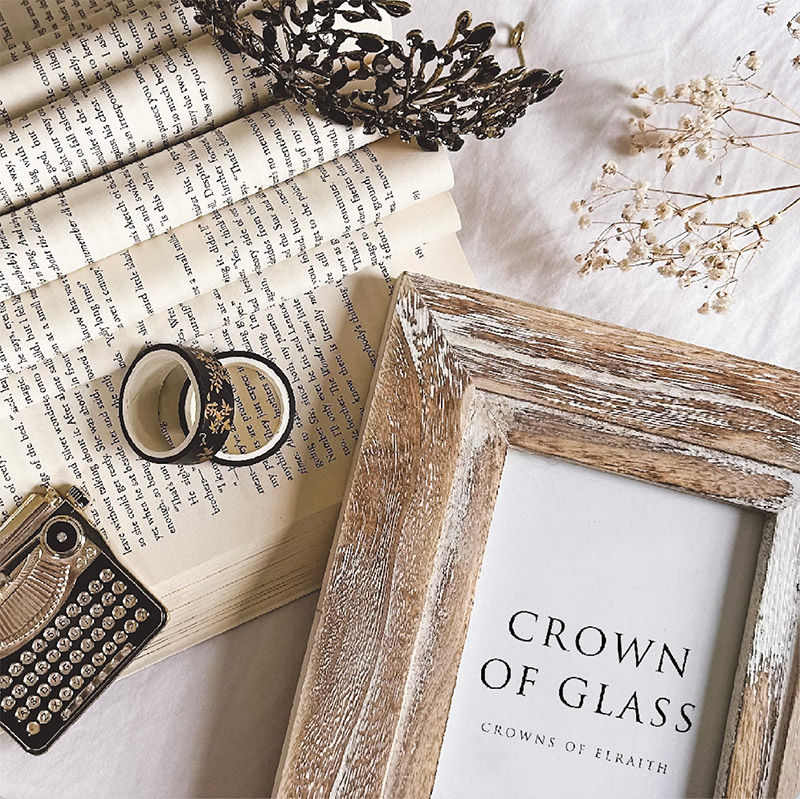 CROWN OF GLASS (Crowns of Elraith, #1)
Trapped in a life of magical servitude and raised as a thief and spy, twenty-year-old Brynn endures a bleak existence in a dreary human city, stealing secrets and treasures for her cruel fae mistress.

But the night Brynn decides to try on an enchanted fae necklace, her entire existence shifts. The darn thing sinks into her skin, giving her raw magical power she was never meant to possess.

Then a man calling himself fae king of the Emerald Court shows up, claiming Brynn is the woman he's spent years searching for. A prophecy spoken over him at birth says he will marry the woman who bears the golden marking now encircling Brynn's neck.

Which is a joke, right? Because while Brynn might possess this marking, and the necklace's power may have drawn King Ezrian to her, she certainly isn't the fae noblewoman descended from a great fae warrior that this prophecy supposedly speaks of.

Fortunately, Ezrian agrees. He wants this prophesied power safely back in its necklace so he can find his true bride, and Brynn wants to be free of the strange and uncontrollable magic that might soon consume her.

With no one else to turn to for help, Brynn agrees to cross the Divide with Ezrian and enter a land thrumming with wild magic in search of a way to unbind the necklace's power from her being.

But navigating courtly intrigues and repeated attempts on her life isn't exactly what she bargained for, never mind fighting her growing attraction to the aloof King Ezrian.

Can Brynn guard her heart and free herself of the magic she unwittingly stole before she loses herself to the world—and the man—that was never meant to be hers?
A standalone fantasy romance of the slow-burn (non-spicy) variety.
---
Woohoo! It was so much fun to build an entirely new world, and I can't wait for you to step into it and discover more!
Preorder Links?
I don't have any preorder links yet because I'm not certain of the release date. I hope to finish everything up in the next few weeks and release before the end of July, but with a baby on the way soon, things are unpredictable!
So I've added the book to Goodreads with a release date at the end of September, but I'll bring that forward if possible.
>> Add to your Goodreads to-read shelf
Important note for non-Amazon readers
Since the fantasy romance category is so popular with Kindle Unlimited readers, I'm going to release this book into KU. This means the ebook version will be exclusive to Amazon and can't be available elsewhere.
BUT I'm aware that I do still have readers outside of Amazon, and I value each one of you and wouldn't want you to miss out, so BEFORE this book releases on Amazon, it will be available for several days through my direct ebook/audiobook store.
If you purchase it that way, you'll be able to download it via BookFunnel onto any ereading device or app (Kobo, iPad, Nook, Kindle etc).
When this series is complete, I'll then move all the books out of KU and publish widely on all platforms. (This is my plan for the Stormfae series as well.)