OF KISSES & QUESTS is here! This was supposed to be a quick side project (because yes, I am also writing other new books I haven't told you much about yet
) and instead it ended up taking about TWO MONTHS to get everything together*!
And now that "release day" is here, some of the formats still aren't yet available, so the release will probably extend over the next couple of months!
EBOOK: Available on all major platforms. books2read.com/KissesQuests
AMAZON PAPERBACK: Available
PAPERBACK EVERYWHERE ELSE ONLINE: Still coming. I uploaded the print files last week and they're STILL being processed 🙁
SIGNED PAPERBACK FOR READERS IN SA: Being printed some time this week or next, but you can order now if you'd like.
HARDBACK: Available on Amazon, B&N and The Book Depository, but might show as "temporarily out of stock" because the updated files are still being processed. (I'm also not sure why Amazon is showing a current price of over $30!!! That's definitely not the price I set. If this continues, rather order it elsewhere.)
AUDIOBOOK: Coming soon! (Hopefully December.)
SPECIAL OFFER
If you order the paperback or hardback (or audiobook, when it comes out), and would like the ebook as well, just forward me your purchase confirmation email from wherever you ordered it and I'll send you the ebook.
A REMINDER OF WHAT'S INSIDE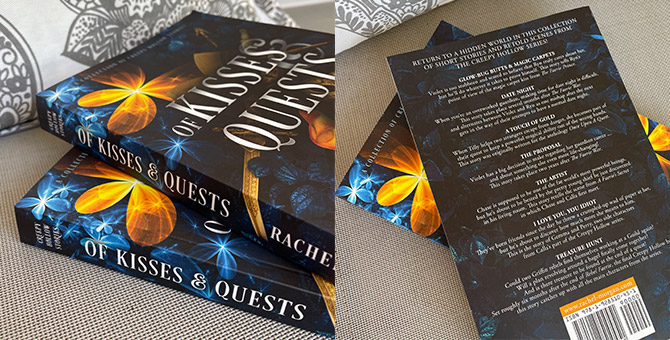 GLOW-BUG BUTTS & MAGIC CARPETS (Ryn's POV of this scene. If you have the freebie, it's titled "Ryn.")
DATE NIGHT (The new story I wrote earlier this year.)
A TOUCH OF GOLD (Tilly's story, published in the Once Upon A Quest anthology. The only story that has NOT been given away as a freebie for newsletter subscribers.)
THE PROPOSAL (This is the one I rewrote. Kinda obvious from the name what this one is about )
THE ARTIST (Chase's POV of the scene in which he and Calla met.)
I LOVE YOU, YOU IDIOT (Gemma and Perry's story. If you have the freebie, it's titled "Gemma & Perry." I loved writing this one so much. They're the cutest couple )
TREASURE HUNT (The new extended epilogue you haven't read yet. It ended up at around 14,000 words! Find out what all the main characters have been up to in the months since Rebel Faerie.)
---
*In case you're interested … "getting everything together" included writing the new story, re-editing the old stories, designing the ebook, paperback, hardback and audiobook covers, formatting the interior of the ebook, paperback and hardback, checking proofs of printed copies, finding two narrators and going back and forth with samples and character notes … Just to name a few of the behind-the-scenes tasks!