You know you want to fall in love this Valentine's Day . . . with a great read! That's why we're having a FLASH SALE through February 15 of 99¢ and FREE clean romances!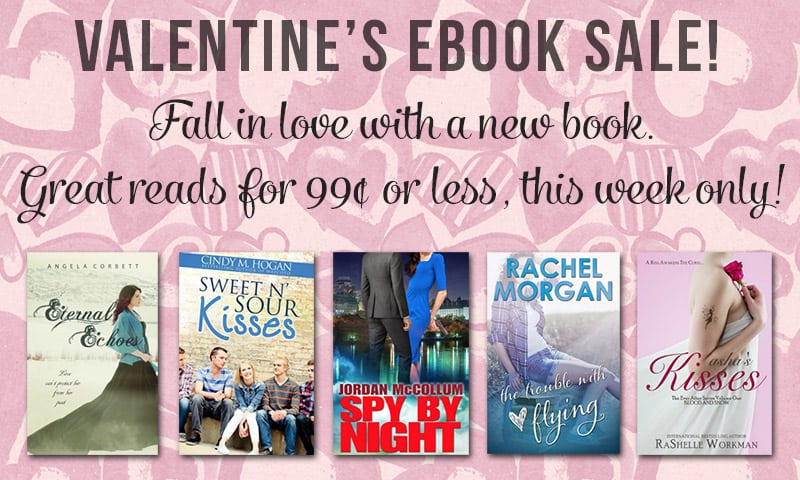 Eternal Echoes by Angela Corbett (Emblem of Eternity Trilogy)
Regularly $2.99 Sale Price: 99¢!
YA Paranormal Romance
Almost four months have passed since Evie Starling learned she was a Tracker and helped defeat a Daevos Clan that was taking others like her—but that wasn't the end of the abductions. As an unknown evil emerges, Evie vows to help solve the mystery of the missing Trackers, regardless of the risk.
Buy it now!
---
Sweet 'n' Sour Kisses by Cindy Hogan (A Brooklyn Novel)
Regularly $2.99 Sale price: 99¢!
YA contemporary
Brooklyn Hamlin likes the rules. They're safe and smart. And for Brooklyn, the rules are simple—no dating until she turns sixteen and no kissing. But her sixteenth birthday is just a few days away, and that means all the rules are about to change. Brooklyn's still determined to avoid the drama of kissing, but she wouldn't mind holding someone's hand, especially if that someone is Luke Graham. Charming and handsome, with just a hint of danger, Luke has been the subject of her daydreams since the school year began. So when he asks to take her on her very first date, Brooklyn can't believe her luck.
But things aren't exactly what they seem, and some boys really are too good to be true. Sweet sixteen and never been kissed, Brooklyn is about to find herself in the middle of all the drama and heartache she was hoping to avoid.
Buy it now!
---
Spy by Night by Jordan McCollum (Prequel to the Spy Another Day series)
Regularly $2.99 Sale price: 99¢!
Romantic suspense
CIA operative Talia Reynolds doesn't believe in "happily ever after." Besides, with her demanding job, she hardly has time for romantic entanglements, even if she could let her guard down enough to get close to anyone. But all the rules she lives by could be broken when she meets aerospace engineer Danny Fluker.
After his last breakup, dating definitely isn't in Danny's plans . . . until beautiful and enigmatic Talia throws a perfect storm right in his flight path. If Talia fails to keep her two lives separate, it could mean the death of more than just her budding relationship. But if they can both break through the barriers keeping them apart (and avoid a major international catastrophe), they just might have a chance at being happy together.
Buy it now!
---
The Trouble with Flying by Rachel Morgan (The Trouble Series)
Regularly $0.99 Sale price: FREE!
YA/Sweet NA Romance
When nineteen-year-old introvert Sarah boards a plane to fly home after an overseas holiday, the last thing she expects is Aiden, the guy sitting next to her who's never flown anywhere before and refuses to shut up. Hours of random conversation later, they part ways. Sarah can't stop thinking about Aiden, though, and wondering if she made a terrible mistake letting him go. Should she abandon her safe, predictable life and go in search of him, or would she be chasing a happily ever after that could never exist in real life?
Buy it now!
---
Asha's Kisses by RaShelle Workman (Ever After Series)
Regularly $1.99 Sale price: 99¢!
YA fairy tale romance
Seventeen-year-old Asha has always preferred to stay out of the spotlight, but during a rehearsal for her high school's rendition of Romeo and Juliet she realizes that starring in the right kind of role might be better than she thought.
First in a new series from the world of the best-selling series BLOOD AND SNOW; coming February 14; pre-order now
Buy it now!
---
Pick up your Valentine's read today!