Welcome to stop #90 in the YA Summer Scavenger Hunt! (If this is the first you're hearing of it, you can start here.) Well done! You're almost two thirds of the way there 😀 You're probably tired from all your "hunting" so far, but don't give up yet. There are still more prizes (plus that grand prize of a $500 Amazon gift card) up for grabs. As many of you already know, I am a LOVER of all things fantasy. So I've put together two different giveaways for fantasy fans: one for those in the U.S. and one for those outside the U.S. Scroll down to enter whichever one applies to you!
GIVEAWAY FOR THOSE IN THE U.S.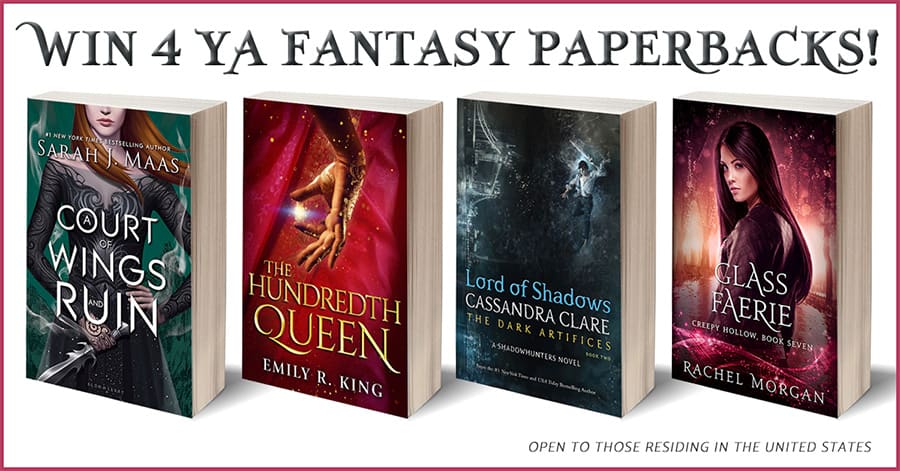 NOTE: Winner may choose a different title by each of these authors.
GIVEAWAY FOR THOSE IN THE REST OF THE WORLD*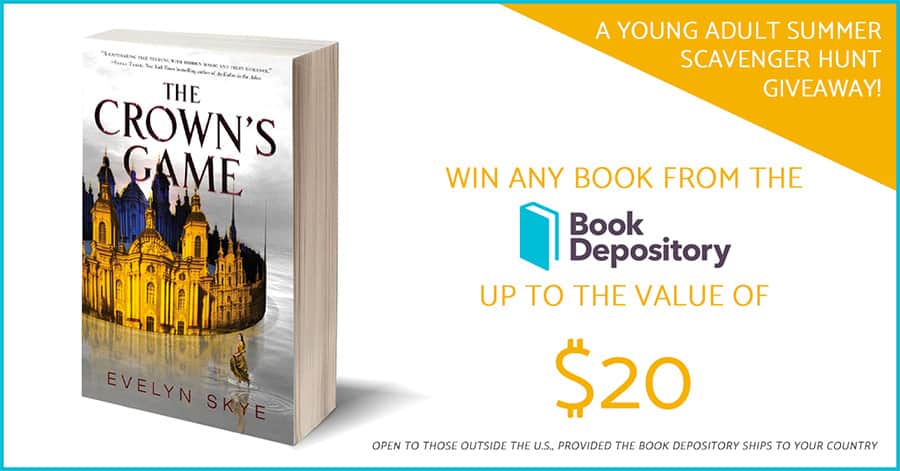 *As long as The Book Depository ships to your country for free. See a list of the eligible countries below.
– – –
The next two stops are:
91. Arwen Paris
92. C.L. Cannon
FROM THE BOOK DEPOSITORY WEBSITE
We currently ship to the following countries free of charge:
A – Andorra, Antigua And Barbuda, Argentina, Aruba, Australia, Austria
B – Bahamas, Bahrain, Barbados, Belgium, Belize, Benin, Bermuda, Bosnia and Herzegovina, Brazil, British Virgin Islands, Brunei Darussalam, Bulgaria
C – Canada, Cayman Islands, Chile, China, Cocos (Keeling) Islands, Comoros, Cook Islands, Croatia, Cyprus, Czech Republic
D – Denmark, Dominica, Dominican Republic
E – Estonia, El Salvador
F – Falkland Islands, Faroe Islands, Federated States of Micronesia, Fiji, Finland, France
G – Germany, Gibraltar, Greece, Greenland, Grenada, Guadaloupe, Guam
H – Hong Kong, Hungary
I – Iceland, Indonesia, Ireland, Israel, Italy
J – Jamaica, Japan, Jordan
L – Latvia, Liechtenstein, Lithuania, Luxembourg
M – Macau, Macedonia, Madagascar, Malaysia, Maldives, Malta, Martinique, Mauritius, Mexico, Monaco, Montenegro
N – Netherlands, Netherlands Antilles, New Caledonia, New Zealand, Norway
O – Oman
P – Philippines, Poland, Portugal, Puerto Rico
Q – Qatar
R – Reunion, Romania
S – Saint Helena, Saint Lucia, Saint Pierre And Miquelon, Saint Vincent And The Grenadines, Samoa, San Marino, Saudi Arabia, Serbia, Seychelles, Singapore, Slovakia, Slovenia, Solomon Islands, South Africa, South Korea, Spain, Sri Lanka, Suriname, Sweden, Switzerland
T – Taiwan, Thailand, Trinidad And Tobago, Turkey
U – Ukraine, United Arab Emirates, United Kingdom, United States, US Virgin Islands
V – Vanuatu, Vatican City
We're sorry if your country isn't on the list, we review the list of countries we ship to regularly with a view to expanding these where possible.
Please note you are responsible for any local taxes and shipping. Any applicable local sales tax, VAT and similar taxes will depend on the tax that applies to your delivery location and any changes will be displayed in the checkout.