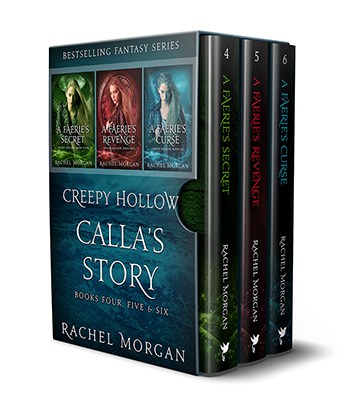 Violet's story (Creepy Hollow books 1, 2 & 3) has been available as a digital boxed set for a while. Now you can also get Calla's story (Creepy Hollow books 4, 5 & 6) in a single set as well!
When Calla Larkenwood is given the opportunity to realize her dream of becoming a guardian, she enters a world far more dangerous than she could ever have imagined. One foe is intent on bringing the Guild down for good, while another prepares for a horrifying prophesied spell that will forever change both the magic and non-magic realms. In a world where everyone keeps secrets and the line between good and bad has become blurred, how will Calla figure out whom to trust?
Join beloved Creepy Hollow characters and new heroes in this thrill ride of heart-pounding action, startling revelations, and dangerous magic, beginning ten years after the events of The Faerie War.
Includes the following Creepy Hollow books:
A Faerie's Secret
A Faerie's Revenge
A Faerie's Curse
---
IMPORTANT NOTE
This ebook collection is NOT available on Amazon
For titles priced higher than $9.99, Amazon lowers the royalty rate so that authors receive only 35% instead of 70% (which sucks for the author). This ebook collection is therefore only available through retailers that don't drop the royalty rate for higher priced titles.