Darkness and Destiny
Have you been wanting to read Scarlett, a companion story to the Creepy Hollow series? If so, you can currently get it PLUS 9 OTHER NOVELS for the same price as getting Scarlett on its own! Even if you have read Scarlett, it's worth checking out the contents of the Darkness and Destiny book bundle because you might love to read some of the other titles included 😀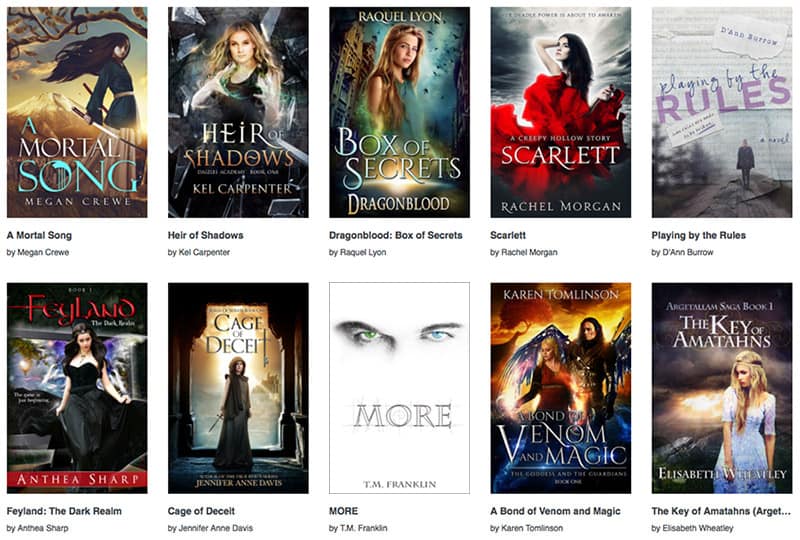 Advantages to buying on BundleRabbit:
You have the option of downloading individual ebooks within box set.
Authors receive a larger royalty percentage.
10 thrilling YA fantasy and paranormal novels for the price of one!
Currently $2.99 (soon to be raised to $4.99)
The Darkness and Destiny box set serves up ten thrilling YA fantasy and paranormal books guaranteed to add excitement to your fall reading. Curl up with this bundle of full-length novels and a cup of hot chocolate, and prepare to be transported far from the world you know. Magic, adventure, and supernatural creatures await.
For a sneak peek at what's in store, read on:
Playing by the Rules by D'Ann Burrow – Some secrets are good, others are bad, some can be deadly. Kennedy's secret can save someone's life, but is she brave enough to use it?
Heir of Shadows by Kel Carpenter – Triplets cursed from birth. Haunted by inner demons. Hunted by monsters.
A Mortal Song by Megan Crewe – When the heir to a spirit kingdom discovers she is a human changeling raised as a decoy, she must adapt to her sudden loss of power while fighting to save her home.
Cage of Deceit by Jennifer Anne Davis – Princess by day, vigilante by night. When a prince from a neighboring kingdom arrives, Allyssa finally meets her match.
More by T.M. Franklin – Ava Michaels used to think she was special. But when the terrifying man from her nightmares comes after her, she finds out she's a little bit MORE.
Box of Secrets by Raquel Lyon – Desperate to unravel the mystery of her father's disappearance, Piper meets a boy who could provide answers, if only he wasn't trapped in a box.
Scarlett by Rachel Morgan – After Beth almost kills her boyfriend with deadly siren power she didn't know she possessed, a group of witches promise to help her gain control of her magic—but at what price?
Feyland: The Dark Realm by Anthea Sharp – Two players of a fantasy video game discover the Dark Queen they must battle is far more real than they suspected.
A Bond of Venom and Magic by Karen Tomlinson – In a world where armored winged warriors wage war against the Wraith Lord, a young woman must fight for her life and her heart.
The Key of Amatahns by Elisabeth Wheatley – In a world where magic is revered, the power to steal it is a death sentence.