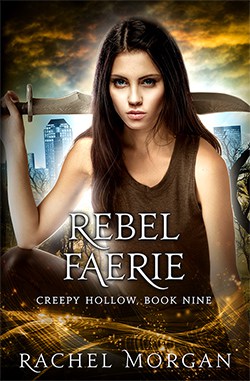 Rebel Faerie is here!
I can't quite believe this is the last novel in the Creepy Hollow series! There may be novellas or short stories to come, but this is the last of the novels that follow the main storyline. It's bittersweet to say goodbye to these characters I've spent YEARS with!
I never imagined more than six years ago that when the image of a creepy, magical, beautiful forest, a young warrior girl, and the words 'Creepy Hollow' came to mind, that so many stories would come to life from there!
So THANK YOU for all the adventures you've been on with me and these characters. The danger, the action, the plot twists (my fave is still the end of book 4), the heartbreak, the swoons! (Those glow-bug butts 😉 ) I appreciate every one of you more than you know (and I may or may not be getting kinda teary while writing this!).
**Note for Google Play Customers: Due to Pronoun (an ebook distributor) shutting down at the end of 2017, all my books are in the process of being moved to a new distributor in order to get to the Google Play Store. Due to the influx of new authors/publishers, this new distributor is experiencing delays in processing times. Rebel Faerie has been reviewed and approved, but hasn't shown up on the Google Play Store yet. It should happen very soon! If you don't want to wait, you can purchase it from Payhip and BookFunnel will send you a link that will allow you to open the ebook in any device/app.