This is post #3 in my blog series looking at self-publishing from a South African perspective. Check out the full list of posts on the Self-Publishing in South Africa page 🙂
Included in this post:
x EBOOK PLATFORMS
— Amazon
— Kobo
— iBooks (now Apple Books)
— Barnes & Noble
— Google Play
— PublishDrive
— Draft2Digital
— Smashwords
x PRINT BOOK PLATFORMS
— CreateSpace (Now closed)
— IngramSpark
— MegaBooks (Now closed)
x "Help! I am now overwhelmed!"
x The platforms I currently use
EBOOK PLATFORMS
AMAZON
This is a no-brainer. If you want exposure to the widest audience possible, Amazon is where you publish your ebooks. Whether you go with other platforms or not, Amazon should be your first stop.
Amazon is the only retailer that has an exclusivity option. It's called KDP Select, and you can only enroll your ebook in this program if that ebook is not available for sale anywhere else. The enrollment period is for 90 days at a time (which will automatically renew unless you pull your books out at the end of a period). In exchange for going exclusive, Amazon gives you some promotional tools (5 free days or 5 countdown deal days within each 90 day period) and makes your ebook available on Kindle Unlimited and the Kindle Owners' Lending Library. This means you not only get paid for sales of your ebook, but also for "borrows" and "pages read."
Amazon is the only retailer where FREE is not a regular price option. However, you can "force" Amazon to price-match an ebook by making that ebook free on all other platforms. You can then wait for the Amazon bots to (hopefully) notice, or you can click the "tell us about a lower price" on the Amazon product page for your ebook, or you can email Amazon directly through the KDP contact us section and ask them to match the price. (You obviously cannot do this if the ebook is enrolled in Amazon's exclusive KDP Select program. In that case, you have the option to price the ebook as free on any 5 days out of every 90 day enrollment period.)
To get started, create an account at Kindle Direct Publishing (KDP). Then follow the KDP instructions on how to set up and publish a title.
Set-up cost: zero
Royalty rate: 35% on ebooks priced from $0.99 up to $2.98 / 70% on ebooks priced from $2.99 up to $9.99*
ITIN** required: no
ISBN required: no (although you can use one if desired)
How they pay you: via cheque mailed to South Africa, or directly into American and some other international bank accounts, or to your Payoneer account
Other costs/fees: a delivery fee based on the size of your ebook file (applicable to the 70% royalty option but not the 35% royalty option). The larger the size of the file, the higher the fee. (For example, my book The Faerie Prince is 0.71 MB in size and is sold for $3.99. 70% of $3.99 is $2.79, but I only receive $2.70 per ebook sold because of the delivery fee. For more info, see section C of this KDP royalties table. If you plan to publish an ebook with lots of images, this could seriously affect the royalty you receive. Take a close look at this.)
*The 70% royalty rate does not apply to ebooks sold in Japan, India, Brazil and Mexico, unless your ebooks are enrolled in KDP Select.
**An ITIN is an Individual Taxpayer Identification Number issued by the IRS to non-US authors for tax withholding purposes. More on that in an upcoming post.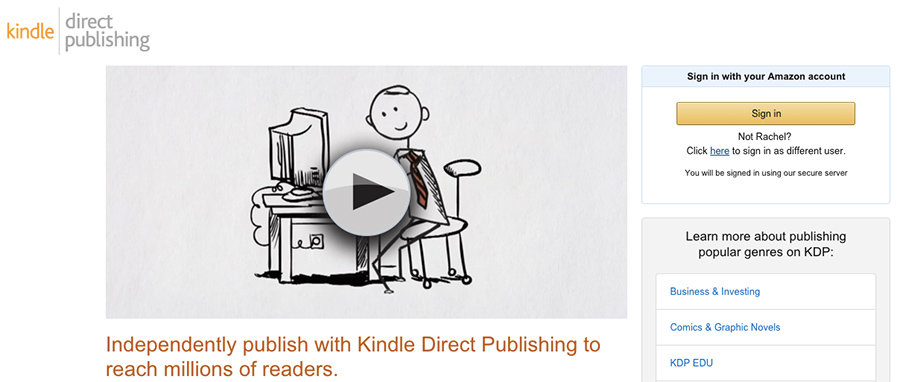 KOBO
I've found Kobo to be the quickest and easiest platform, both to set up titles and to make changes to already published titles (Edit: now that I've used PublishDrive as well (see below), I would say the PublishDrive platform is just as quick and easy). In addition, Kobo displays prices in rands when you're browsing from a computer in South Africa, which is nice for local customers. What's also cool is that you can write to Kobo customer support and request the Promotions tab be added to your dashboard, which will show you all the different Kobo promotions you can submit your titles for every month.
To get started, create an account at Kobo Writing Life (KWL). The rest is pretty straightforward.
Set-up cost: zero
Royalty rate: 45% on ebooks priced from $0.99 up to $1.98 / 70% on ebooks priced from $1.99 up to $12.99
ITIN required: no
ISBN required: yes
How they pay you: directly into your South African bank account
Other costs/fees: no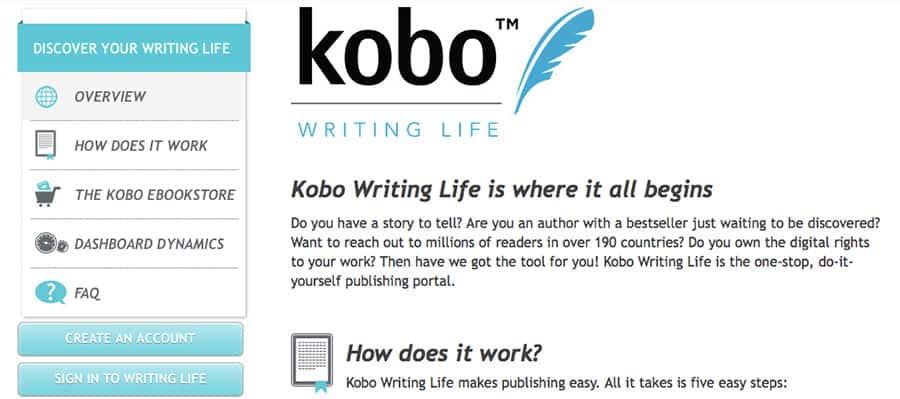 iBOOKS (Renamed APPLE BOOKS since this blog post was published)
NOTE 1: You need to have a Mac in order to publish directly to iBooks (or be computer-savvy enough to run an iOS system on your Windows computer. I haven't a clue how to do that, but fortunately I have a MacBook 🙂 )
NOTE 2: Publishers and authors cannot sell ebooks on the South African iBookstore. We can, however, sell on the American iBookstore (which is where most of the readers are anyway) and a whole bunch of other iBookstores. 51 in total.
I love iBooks. I love the pretty iBooks app, I love the flexibility of the royalty reports and the amount of information they display, and I love how open the iBooks marketing team is to working with indie authors. Twice I've been fortunate enough to have a banner for one of my books scrolling across the top of the YA section of iBooks, and I regularly see banners for other authors whom I know are indies. Yay! Thank you, iBooks! In addition, iBooks is my second largest source of income — so obviously I love them for that too 😉
To get started, create an account at iTunes Connect. It's a bit more of a process than Amazon or Kobo, but it's gotta be done. Once your new account has been verified, you'll be directed to download iTunes Producer. This is the app in which you'll set up your titles. It's not too hard to figure out, but here's a step-by-step guide on how to do it.
Note that the whole process is a bit different with iBooks. With the other platforms, everything takes place online. With iBooks, you set up all your title information in the iTunes Producer app, and after that you monitor sales and view reports etc. online by logging into iTunes Connect.
Set-up cost: zero
Royalty rate: 70% no matter the ebook price
ITIN required: no
ISBN required: recommended, but apparently no longer necessary
How they pay you: directly into your South Africa bank account
Other costs/fees: no
EXTRA: 250 codes available per title to send to reviewers so they can download your ebook for free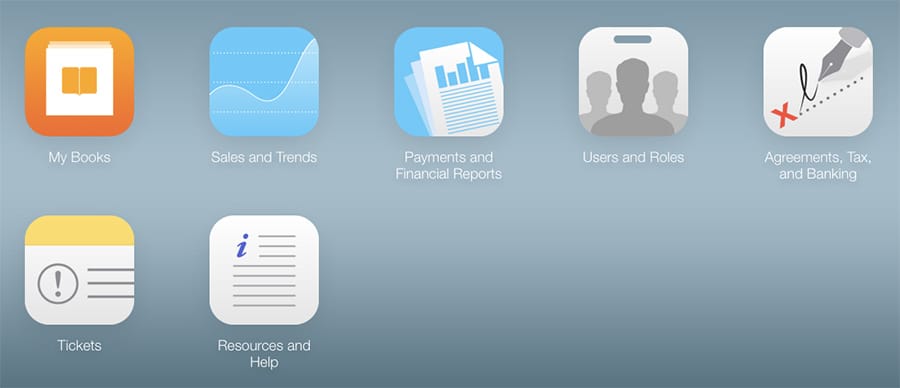 BARNES & NOBLE
South Africans are not currently able to publish directly to Nook Press.
GOOGLE PLAY
UPDATE: You can now get to Google Play via PublishDrive (an ebook distributor like Smashwords and Draft2Digital)
South Africans can sell ebooks on Google Play, but we can't set up a payment profile and receive royalties. So … yeah. That one's out. (To be honest, though, I'm not that upset about this. Whenever I see authors in the author groups I'm part of talking about Google Play, it's usually a complaint/question about pricing. It seems almost impossible to control the exact price of any title on Google Play, and this then leads to price-matching issues with Amazon, and it's an absolute nightmare if you're trying to run a price promotion.) <– An update on this as well: PublishDrive takes into account Google Play's discounting, so they will adjust the price you set so that the discount price customers see on Google Play IS the list price you have set.

PUBLISHDRIVE
PublishDrive is an ebook distributer, like Draft2Digital and Smashwords (below). They distribute to over 400 different channels (stores and libraries), including Google Play, which Draft2Digital and Smashwords don't currently do. They offer merchandising opportunities with some of the stores they distribute to (like Kobo, Apple Books and Scribd).
Note: after having used Smashwords, Draft2Digital, and PublishDrive, I now only use PublishDrive because they offer a subscription fee as well as a royalty share option (see below).
To get started, create an account at PublishDrive, click 'Add book' at the top of the page, and continue from there.
Set-up cost: zero
Royalty rate: there are so many different channels PD distributes to, and they all offer different royalty rates. PD takes 10% of whatever royalties are paid out to you from all the channels where you've sold books. Subscription fee: this is an ALTERNATIVE to the royalty share option. Instead of giving up 10% of your royalties, you instead pay $100 per month. This option makes sense for authors selling over $1000 worth of books in a month.
ITIN required: no
ISBN required: yes
How they pay you: wire transfer, check, PayPal or Payoneer
Other costs/fees: no
DRAFT2DIGITAL
Draft2Digital is an ebook distributer, like Smashwords (below) but simpler to use (at least, I've found it to be simpler). It's also easier to get paid by D2D than by Smashwords. D2D currently distributes to iBooks, Barnes & Noble, Kobo, Inktera, Scribd, Tolino, 24Symbols, Playster, OverDrive (ebook library distribution) and CreateSpace (which is a print book platform). BONUS: Since writing this blog post, D2D now works with Findaway Voices to help you set up your audiobooks!
Note: after having used both D2D and Smashwords, I recommend D2D.
To get started, create an account at Draft2Digital. Then check out their step-by-step guide.
Set-up cost: zero
Royalty rate: D2D takes a 15% fee out of the 70% that each retailer pays per title. This works out to you receiving around 60% of the list price of your title
ITIN required: no
ISBN required: yes
How they pay you: directly into your South African bank account, or PayPal, or cheque mailed to South Africa
Other costs/fees: no

SMASHWORDS
Smashwords sells ebooks on their platform, but, more importantly, they are also an ebook distributer. Upload your ebook to Smashwords, and it will find its way to Barnes & Noble, iBooks, Kobo, Scribd, and plenty of other retailers, as well as several library platforms via OverDrive, Library Direct, Gardners and others. Smashwords does also distribute to Amazon, but I'd strongly recommend opting out of that channel. There's no point if you're already publishing directly on Amazon.
To get started, create an account at Smashwords. All the publishing steps after that are explained on their FAQ page.
Set-up cost: zero
Royalty rate: 80% for titles sold directly from Smashwords, 60% for most retailers, 45% for most libraries
ITIN required: yes (UPDATE: no longer required as of 2017)
ISBN required: yes
How they pay you: quarterly via PayPal (UPDATE: monthly, as of 2017)
Other costs/fees: no
EXTRA: coupon code generator for different discount amounts

PRINT BOOK PLATFORMS
CREATESPACE (CreateSpace has unfortunately shut down since this blog post was published. You can now use KDP Print via the same dashboard through which you publish your Amazon books)
CreateSpace is linked to Amazon, so this is the easiest and quickest way to get your paperback in front of Amazon customers. You can choose to sell only on Amazon, or you can choose the expanded distribution option, which will get your paperbacks onto Barnes & Noble, The Book Depository, and even Loot and Takealot here in South Africa! (For ridiculously high prices, unfortunately. Exchange rate and shipping … *sigh* I never recommend to local readers that they get my books from Loot or Takealot.)
To get started, create an account at CreateSpace. Then choose either the more lengthy, guided set-up process, or the shorter "expert" process. It's probably best to use the guided process the first time you do this.
Set-up cost: zero
Royalty rate: for books sold on Amazon, CS keeps 40% of the list price. You receive the remainder MINUS the cost of printing the book***. For books sold through any expanded distribution channel, CS keeps 60%. You receive the remainder MINUS the cost of printing the book. (For a more detailed look at how to work this out, plus a comparison of CreateSpace and Ingram Spark, check out this post on the ALLi site. Also see this post on using CS and Spark together, which seems like the best way to go.)
ITIN required: no
ISBN required: yes
How they pay you: via cheque mailed to South Africa or directly into American and some other international bank accounts
Other costs/fees: if you'd like to see a proof copy of your book, you'll have to pay for it, along with international shipping fees. (Fortunately, CreateSpace has a digital proofer which is actually very accurate. For my first book, I ordered a proof so I could check it out properly. Since then, I've either had proofs sent to friends in America and asked them to take photos for me, or I've trusted the digital proofer. So far I've had no reader complaints.)
***This cost is obviously different for each of your books, as they will most likely be of different lengths. Visit CreateSpace's royalty calculator page for more info and examples of how they calculate your royalty.

INGRAM SPARK
Ingram Spark is a bit more complicated in terms of setup than CreateSpace, but their international distribution is better than CreateSpace's. Some bookstores will order copies from Ingram Spark but not from CreateSpace. In addition, Ingram Spark offers a hardcover option as well as paperback, which CreateSpace does not.
To get started, create an account at Ingram Spark. After verifying your account and agreeing to their various publishing agreements, go to Add New Titles and follow the steps.
Set-up cost: $49
Royalty rate: Ingram Spark keeps either 40% or 55% of the list price (your choice as to what discount you want to provide) and you receive the remainder MINUS the cost of printing the book
ITIN required: unclear. They ask for "tax exempt documentation".
ISBN required: yes
How they pay you: via PayPal, or directly into American and some other (non-South African) bank accounts
Other costs/fees: $12 annual distribution fee; $25 fee to upload a revised file for any title

MEGABOOKS (Unfortunately MegaBooks has closed since this blog post was published)
I now use Digital Action to print books locally for me. They don't have an online store for customers, but I have books delivered to me, and readers can then purchase copies through my online Shopify bookstore.
MegaBooks is currently our only local print-on-demand option. Their process isn't as streamlined as CreateSpace, and changing details (like price) at a later date requires you to email MegaBooks and ask them to do it. But if you want a local option for your local readers (so they don't have to pay huge shipping fees and order your book from Amazon), and you don't want to print, house and directly sell copies of your book to readers, then MegaBooks is great. If anyone asks where to get your book, you can tell them to visit the MegaBooks website.
To get started, create an account at MegaBooks. Then supply all the required information under the Add a Book to the Store section.
Set-up cost: no
Royalty rate: varies (you can use the online book cost calculator to work it out)
ITIN required: no (we're in local territory here! Yay!)
ISBN required: yes
How they pay you: directly into your South Africa bank account
Other costs/fees: no

---
"HELP! I am now overwhelmed!"
If the idea of having to get your ebooks up on four or more platforms just seems like too much to you at the beginning of your self-publishing career, then choose one of the following options to make your life easier:
Amazon only – this way you can be part of KDP Select and take advantage of the benefits like Kindle Unlimited
Amazon + a distributer (PublishDrive or Draft2Digital or Smashwords) – you only have to set up titles on two platforms, but your books still find their way onto all the major online retailers (and the minor ones, and the ebook library market)
Still not sure whether you should opt in for Amazon exclusivity or not? The Creative Penn and Lindsay Buroker (and many others out there, if you just do a Google search) go into more detail on the pros and cons.
My opinion (if it counts for anything!): I'm not a fan of exclusivity, and it's taken me long enough to build my readership on non-Amazon platforms that I don't want to risk losing any of those readers by experimenting, even for a brief period, with KDP Select. Aside from that, non-Amazon platforms bring in roughly 50% of my income. So for my Creepy Hollow books, at least, I'll be staying wide. But I can definitely see the advantages to KDP Select at certain times and for certain genres.
---
THE PLATFORMS I CURRENTLY USE
(in case you're interested)
Amazon KDP
Apple Books
Kobo
PublishDrive to get to Google Play, Nook & others
KDP Print (for Amazon POD books only)
Ingram Spark (for international distribution of POD books)
[Tweet "#Selfpublishing in South Africa: Which Publishing Platforms to use. #selfpubSA #SAindiepub"]
FURTHER READING
Reedsy has a very comprehensive article on this subject with a useful spreadsheet detailing each retailer and ebook distributor and the royalty amounts you can expect from each.